~ INGRID GOFF-MAIDOFF ~ Book Arts, Gifts & Poetry for leaning in & listening to the spirit of your life
As a poet, artisan, and anthologist, I know that a well crafted collection of just the right words can provide a glimpse into our own hearts- an insight that can illuminate or even shift the way we are feeling, providing vision for the coming days. Based on the island of Martha's Vineyard, I've been creating these beautiful books, cards and quotation decks for nearly thirty years! I hope you enjoy your visit, and sign up to receive my Joy Postcard emails for a weekly uplift of beauty & spirit.
thank you for being a light in this world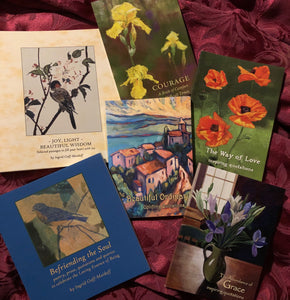 Books
My books celebrate the everyday sacred; the beautiful ordinary; grateful living; generosity, and the human spirit. They are enjoyed by retreat leaders, lovers of poetry, quote collectors, and generations of visitors to the island of Martha's Vineyard. Each is a treasure of inspiration and soulful living.
Shop for Books
Gifts
To bless, to feel blessed ~ to encourage, comfort, uplift and inspire... that's what these gifts and quotation decks are created to do. That they are soulfully made with beauty, texture and love- not churned out by a factory- makes them all the more wonderful.
Shop for Gifts
Cards
Whispers of wisdom to keep or to send ~ here are blessings and birthday cards, sympathy, friendship, joyful living & more.
Shop for Cards