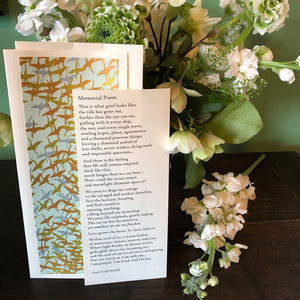 I was asked to write this poem for someone who would be reading at the service of a young man who died far too early.  I walked the trails and fields for several days, taking notes as I moved along, and these are the lines that transpired.
I am very moved that the poem was helpful for that service, and that it has offered comfort for many others since.
This card is a little different.  It has Japanese Crane Paper on the front, and is blank inside.  The memorial poem is included on a linen insert to send as an extra bit of thoughtfulness.
Memorial Poem

This is what grief looks like:
the tide has gone out,
farther than the eye can see,
pulling with it every ship,
the sun, and every single wave;
stealing hopes, plans, agreements,
and a thousand precious things;
leaving a shattered seabed of
lost shells, secret wishes, dying reeds
and impossible questions…

And there is the feeling that
life will remain emptied, slack like this,
much longer than we can bear…
How could the ocean return
and moonlight shimmer upon it?
We pray one day to drag our courage
to the ravaged and restless shoreline,
face the horizon, looming,
and find ourselves
opening, reaching,
calling beyond our mourning.
We pray life responds, gently urging,
This one we love has moved on,
yet somehow we are not finished.

Love grows the heart. So does sadness.

Within each of us, a warm harbor
of memories, visions, sorrows and joys.
Where light breaks on distant waves,
gulls glide above the incoming sea,
and the soul of our loved one is whispering,
Fear not. Carry on. I am with you…
I am grateful. I am loved. And I'm free.
~Ingrid Goff-Maidoff