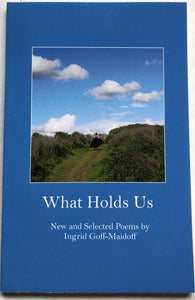 What Holds Us, Poems by Ingrid Goff-Maidoff, includes Diamonds, Wherever You Are Find A Trail, Hope, And God Spoke Today in Flowers, among many other favorite and sought out poems.
 Welcome to the e-book experience of What Holds Us. World-wide time
and shipping expenses being what they are, this downloadable version has been lovingly created to be available for only $5.
To impart as much beauty as possible, each poem in the e-book is paired with a photograph or illustration, most reflecting life here on the island of Martha's Vineyard. A few notes about these poems: My husband Jonah and I have been married 35 years, and we have two daughters. We have built a house on family land, and I feel blessed to wander the fields, trails, and shoreline carrying my notebook… jotting down inspirations. These poems are a grateful exploration and celebration of what it is to be a human soul living in this sacred, ordinary, and always holy world.
I love that my poems are shared in yoga classes, retreats, church services, memorials… and if you have a venue which feels appropriate, I would enjoy reading my poetry and conversing on any of the many themes these poems embrace: family, devotion, marriage, poetry, divinity, spirit, soul…
~ what it is that holds us, and what in us is held.
Love & Blessings, Ingrid
"Ingrid Goff-Maidoff's book of poems, What Holds Us, is a collection of verse you will treasure. You will find yourself re-reading these poems over and over, when her wisdom needs to find you." 
~ Cristina Raskopf Norcross
"I keep going back to the poems in What Holds Us; one delicious poem after another. So glad you're out there doing what you do. " ~D.C. 
"Once you start reading her poetry you will experience what an incredible gift she has and how lovingly and carefully she uses words to paint a picture that draws us towards our True and Eternal Self.
But she leads us to the remembering of this awareness with the beauty of everyday things and moments. She allows us to find the sacredness in the ordinary, reminding us that we do not have to leave our home – or even our seat at the kitchen table – to experience our true beauty." ~Hollie Holden